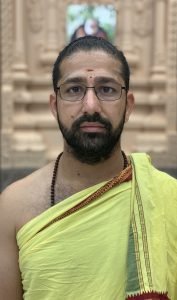 Sri Chandramouli received his ceritification in the RigVeda Samhita in 2002 from Maharshi Veda Vignana VidhyaPeetam (Teerthahalli). He has served as a preist at Bengaluru Sringeri Mutt and other temples in India.
In USA, Sri Chandramouli has been a priest at the SVBF Stroudsburg (Pennsylvania) from 2008 gaining knowledge in Yajurveda and performing various vedic rituals and Havans. 
Shri Chandramouli has been with SVBF North since 2016.
Sri Chandramouli is fluent in English, Kannada, Hindi, Tamil and Telugu languages.
Email: priest2@svbfnorth.org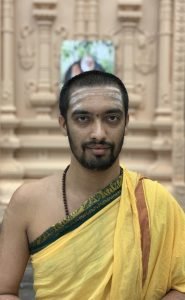 Sri Kiran Kumar is fluent in English, Kannada, Tamil, Telugu, Hindi and Sanskrit.
Shivananda Korana Kudige Narasimhaiah
He has worked as a religious cook (Paricharaka) in various temples in Karnataka. He is 44 years old and can speak Kannada, Tamil. He can prepare various types of special offerings to the God and Goddess as required by the scriptures. This requires special training and rigorous practices to prepare the food for the Gods